Oleg Fortunatov
INQUISITION FILE DL-699-047-XT62891-00x
Ref: Skane, A.
R.I.P.
Thought for the day:
"The gun is mightier than the sword!"
Evocations:
The wise man learns from the deaths of others!
The Emperor orders you to DIE!
Has contract for the sanctioning of Navigator Annirette.
Name: Brother Oleg Fortunatov
Cover Name: Kamenka Ulyanov
Rank: Seasoned
Homeworld: Fenksworld: Volg Hive
EXPERIENCE/VALUE INDEX: 40 (Nighthawk)
Adventure Card: Ooooh, that will leave a mark! Play after damage is rolled to double the total of a successful melee attack.
FATE
| | | | |
| --- | --- | --- | --- |
| White: 0 | Red: 1 | Blue: 0 | Gold: 0 |
HERESY INDEX: 0
Insanity Index: 0/0 Corruption Index: 0/0
DECORATIONS: Maccabeus Quintus, Saint Drusis Pilgrim Purity Seal, Saint Drusis Pilgrimage Purity Seal
VITAL STATISTICS1
SKILLS
AGILITY
d6
Fighting
d10
SMARTS
d6
Persuasion
d6
SPIRIT
d6
Notice
d6
STRENGTH
d8
Faith
d6
VIGOR
d8
Shooting
d10
PACE
6
Climb
d6
PARRY
7/7/5
Streetwise
d6
CHARISMA
-2
Knowledge (Volg World)
d4
TOUGHNESS
6/9 (0/+3)
Stealth
d10
WOUNDS
(-3) INC
Repair
d4-2
FATIGUE
WEIGHT
30#
Penalty
11.5# 0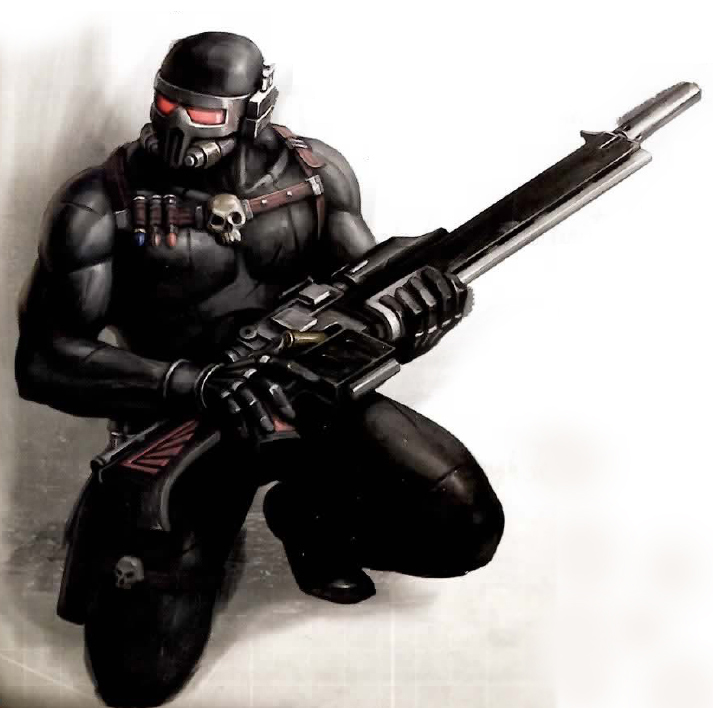 ASSESSMENT
Blessings and Benefices of the Immortal Emperor:
Accustomed to crowds: Hive World characters do not suffer a -1 Modifier for chases due to the dense, crowded conditions common in Hive Worlds.
Caves of steel: All Hivers are at least mildly familiar with technology – it surrounds them from birth. Treat "Repair" as a Basic skill (you may attempt it at 1d4-2)
Catfall: When you fall or leap from a height you may make an Agility roll against a Difficulty of 4 +1 for every ten feet you are falling. If you succeed you may deduct 1d6 from the damage. If you succeed with a raise you may deduct 2d6.
Quick Draw: May draw a weapon as a free action.
Marksman: +2 Aim if do not move.
Assassin: +2 to damage when striking a foe unawares, even with range attacks.
Mechanical Arm: Left arm, normal strength.
Frailties, Weaknesses, and Exploitable Character Traits:
Hivebound: -1 to all skill tests when in a non-artificial environment.
Code of Honor: Keeps his word and all contracts.
Cautious: Likes to plan out his "contracts".
Stubborn: Always wants his way.
Ugly: -2 to the opposite sex. Disfiguring facial scar.
One Armed: -4 for two armed tasks. Mitigated by Mechanical Arm.
DEPARTMENTO MUNITORUM EQUIPMENT ALLOTMENT
THE FOLLOWING EQUIPMENT MAY BE DISBURSED UPON RECEIPT OF FORM 4111-4UN-555 AND FORM 7450-00-133053. ANY ADDITIONAL EQUIPMENT REQUESTS REQUIRE APPROPRIATE SUBMISSION OF FORMS !95-R-776 AND/OR 4779312/FF197 AS APPROPRIATE
Black Body Glove +3 Toughness
Respirator
Sword Str + d8, 4#
Knife Str + d4, 1#
Molecular Knife Str + d4 +2, AP 2, 2#
Stub Pistol 5/10/20, 2d8, ROF1, 6, 1#
OOO OOO
-
Magazines O O O O
- - -
Auto Rifle 24/48/96, 2d8+2, ROF 3, 30 rounds, 3RB, 3.5#, AP2, Auto
XXX XXX XXX OOO OOO OOO OOO OOO OOO OOO
- - -
Magazines O O O
Chrono
Data Slate
Micro-bead (range 1 km)
Vox unit (range: orbit)
3 doses of stimm
Corpse hair charm
Common quality clothing
page revision: 93, last edited: 07 May 2013 03:40